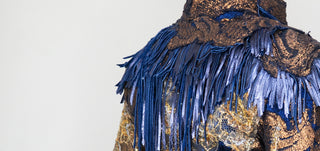 Mosaic
Pieces like these are the soul of the work we do.
Mosaic pieces are created with meticulous and careful layering of different materials, textures, and techniques to create a blend that is opulent, vibrant, and full of life.
These pieces can often take days to complete and are an ebb and flow work, meaning that the piece we begin with is unlikely to be the piece we end with.
As such, every mosaic piece tells a story unique to itself and is organic in its appearance and creation.
HAND-DYEING
We use practised and developed dyeing techniques to create rich and vibrant prints that exude vitality and creativity.
These prints are dyed in small batches by hand in our Toronto Studio using professional grade pigment dyes and supple, fine quality fabrics.
As such, each print is unique to the batch and will vary in shade, hue, and intensity. 

Bladed
Leather is a resiliant, supple material, but can be stiff and uncomfortable.
Bladed leather mixes the comfort of knit with the look of leather by alternating stitching with slicing to allow movement and stretch to return to the base knit.
Depending on piece and the amount, blading leather can take days to finish a single piece.
The effect is bold and textured, yet comfortable and molded to the body.
Fringed
To allow for flow and movement in many of our pieces, we incorporate leather fringes to twist and sway with your motions.
While fringes can be sliced using machines or bought pre-cut, we choose to cut our fringes by hand as it ensures the thin strips and organic irregularity our fringed pieces are known for.
As such, depending on the piece, creating the layers upon layers of fringes can be time consuming and labour intensive, some pieces taking days, even a full week, to create.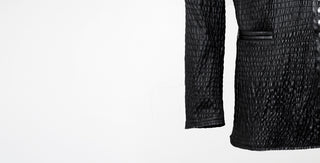 Shirred
Shirring, or gathering, textiles add a level of depth and texture to any piece.
With our shirred pieces, we begin the process by slowly gathering the material to create irregular forms within the piece which then become a facet of the design.
We often work with nontraditional materials when shirring, using not only traditional fabrics but also materials such as leather for a unique texture and feel.
These peices can be time consuming before the garment is even cut from the materials and often take days to create from start to finish.